Mentoring from One Coast to Another
November 10, 2020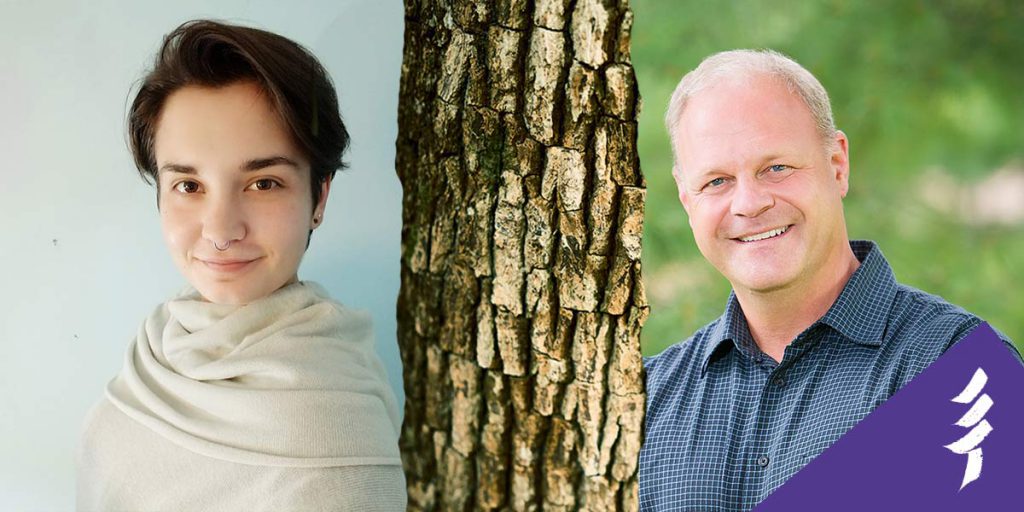 Andrew de Vries has worked in the forest and conservation sector for more than 30 years. Although he's coached and managed people in the past, he'd never been a part of a formal mentorship program before PLT Canada's Green Mentor program.
The British Columbia local was matched with a mentee on the other side of the country—Vicky Papuga, a student at Dalhousie University in Nova Scotia.
"I was really surprised at how well the matching software worked," said de Vries. "It was very interesting to see how much we shared in common—not just academically, but personality-wise."
De Vries grew up in a forestry community and was always outside as a kid. He had longstanding interests in wildlife, the environment and human cultures, and he was able to pursue an education and a career that linked his core interests.
As the Manager of Indigenous Opportunities & Government Relations at Tolko Industries Ltd., he said he doesn't have a typical day in the office.
"I could be working on a business plan or research report, I could be working with First Nations leaders or scientists, I could be working with members of Parliament or members of the legislative assemblies," he said. "My days are very varied."

Andrew is featured in one of our 11 "A Day in the Life" videos.
De Vries and his mentee, Papuga, met virtually every three weeks. Papuga was completing her master's degree in Environmental studies, so they spaced their sessions out to give her enough time to complete the mentorship chapters and her thesis.
"I liked the structure of the mentorship program and the resources that were available because it allows you to focus the discussion," said de Vries.
Papuga had been a part of a mentorship program at school, but it was less structured.
"I got good information from my mentor, but it kind of fizzled out a little bit," she said. "There wasn't much to structure conversations that would take me somewhere. I think a big draw of this program is the matching, which then aligns really well with the structure. The matching program that was used was really good, so it was pretty easy to talk about and work through the resources that were provided."
Papuga grew up in a city, but nature was a big part of her childhood. Whether it was camping up North or leading Scouts hiking trips, she said she was always more comfortable outside.
The 25-year-old actually completed her undergraduate degree in criminology and psychology before changing her career aspirations.
"The thought of the natural world getting destroyed further and further is kind of what caused me anxiety at one point," she said. "So, I ended up pursuing environmental studies because it aligned a lot more with what I was hoping to get into."
She is considering further education if she finds the right project to work on. She's interested in biodiversity, conservation, sustainability and restoration, and she would like to work with wildlife at some point.
Papuga said she learned a lot from de Vries's background.
"My department's pretty interdisciplinary, but it's very academic-focused. I knew about the forest sector and the environmental sector, and I knew about all the hard science that goes into it," she said. "But in talking about Andrew's education and career, I learned a surprising amount about how social science can actually be useful beyond academia, which gave me hope."
"The mentorship relationship felt more organic and allowed for a more human connection than typical professional interactions you have when you're networking or reaching out to someone in the industry," said Papuga. "It was a great experience for me, even if we never got to meet face to face because we were on opposite coasts."
And while de Vries said it might be a cliché, being a mentor is a chance to give back.
"I've learned a lot from teachers and coaches and managers over my career," he said. "I got to provide Vicky with some of the insights and knowledge from all the different folks that I've learned from and continue to learn from in my career."
PLT Canada's Green Mentor program connects young people ages 18-30 with Green Jobs professionals. The six-month mentorship program involves meeting up (in person or virtually) two or three hours a month.
PLT Canada is launching the second mentoring cohort in January 2021. Young people who are interested in expanding their Green Jobs knowledge, goals and network can apply to become mentees. Forest and conservation professionals who want to inspire the next generation of leaders, recruit employees, and gain new perspectives can apply to become mentors.
Learn more about our mentorship program!
Adapted versions of this article also appear in The Working Forest, Alternatives Journal, and forestindustry.com.