I want a mentor
Are you looking to expand your forest and conservation knowledge, goals and network? Ever think, I want a mentor? Well, youth ages 18–30 can become a Green Mentee with PLT Canada.
The mentorship relationship felt more organic and allowed for a more human connection than typical professional interactions you have when you're networking or reaching out to someone in the industry.

Vicky Papuga (Mentee)

Being matched with someone also in my field gave me the opportunity to still be a part of and discuss the industry in depth, which really made a world of difference as I navigated my future goals and aspirations… I'm quite confident I have built a relationship that I can continue far into my career.

Alexandra Lalande (Mentee)

This program has allowed me to open my connections and speak with someone who will benefit my career, social life, and overall future. I am very lucky to be able to say that I have a mentor and that we met through a program designed to create amazing connections.

Catherine Langille (Mentee)
Requirements for Green Mentees
In PLT Canada's Green Mentor Program, mentees drive the relationship with their mentors and actively pursue conversations with them. Mentees also develop clear career goals within the forest and conservation sector and reflect on their progress throughout the six-month mentorship match.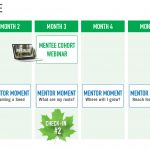 To be eligible for the program, you must:
Be between 18–30 years old.
Be a Canadian Citizen, Permanent Resident, or have Refugee Status.
Be living in Canada.
Be available to meet your mentor 2–3 hours per month (in person or virtually).
Want support building your career pathway in the forest and conservation sector.
Have specific skills or habits you want to improve.
Commit to the six months of the program and respect the time of your mentor.
If you are accepted as a mentee, you will need to:
Set a goal at the beginning of the program and submit a proposal to your mentor and the PLT Canada team.
Come prepared with topics for each mentorship meeting (with support from PLT Canada training materials).
Participate in skill development and self-reflection.
Engage in a learning process that will help you develop your career pathway. This process might include webinars and training modules in addition to interacting with your mentor.
Complete the Green Pathway Plan online course by the end of the six-month mentorship term. You will be guided by PLT Canada and your mentor on how to do this.
Work collaboratively with PLT Canada to ensure that you and your mentor are satisfied with the program.
Applying means you understand and commit to the requirements and expectations listed above.
Green Mentee application form: