"Green Jobs are for Everyone" Workshop Series and Career Connections Fair hosts over 500 attendees
April 15, 2021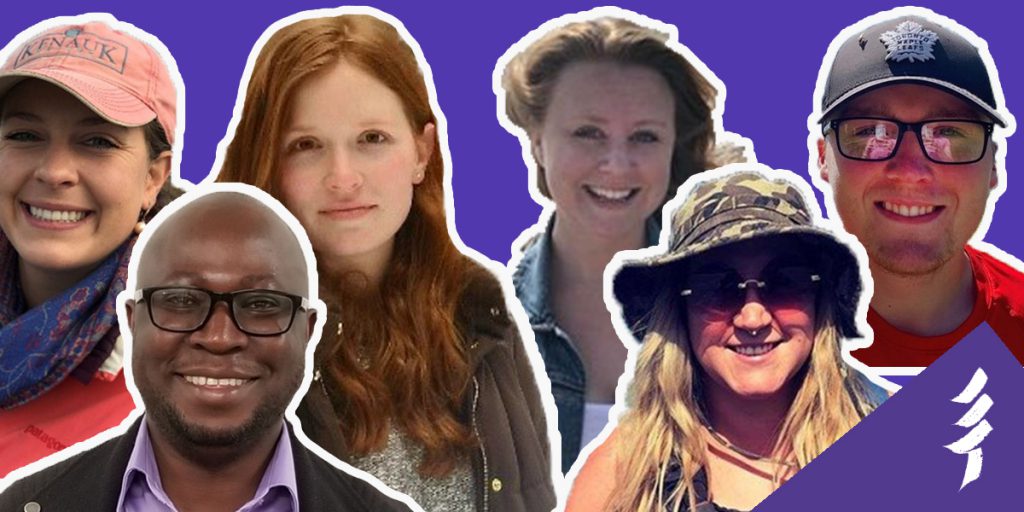 By making the green sector accessible to everyone, we can build a diverse and resilient Green Jobs workforce of the future.
It's important that we help recruit and inspire the next generation of forest and conservation leaders. About 47,500 forestry workers are predicted to retire between 2020–2028. That's almost a quarter of the current workforce! And in 2018, the International Labour Organization reported that the green economy could create around 24 million jobs by 2030.
PLT Canada's "Green Jobs are for Everyone" Workshop Series and Career Connections Fair aimed to identify barriers to employment and brainstorm how to address them. The virtual series was also a time to safely connect, grow and diversify networks, and build new skills. It included four half-day sessions targeting young people who may face additional barriers to employment and culminated with a virtual career fair. All the workshops were supported by live French interpreters.
"Don't be afraid to take opportunities that may not be exactly what you want because opportunities create other opportunities!"

– PLT Canada Green Mentee Elina Shahmiria's key takeaway from "Green Jobs are for Everyone"
Fast Facts
528 participants attended over the course of five events
11 external speakers presented
11 PLT Canada youth facilitators moderated breakout room discussions
23 employers hosted booths at the career fair
Over 90% of respondents said that their expectations for the workshop(s) were met or exceeded
Over 90% of respondents said that the workshop(s) were valuable to their personal growth and development
Supporting Indigenous Youth in the Green Jobs Sector: March 2, 2021
Elder Claudette Commanda, an Algonquin Anishinabe from Kitigan Zibi Anishinabeg First Nation, opened the workshop series and welcomed attendees, telling Indigenous youth that education is their pathway to a career. Then, youth and employers split up for separate learning sessions.
Geni Peters, Labour Market Information Manager for ECO Canada, addressed the youth and talked about Green Job trends. Brittany McCoy, West Program Manager for Outland Youth Employment Program (OYEP), and Mark Kmill, East Program Manager for OYEP, talked to employers about creating safe, supportive and empowering workplaces for Indigenous youth.
Supporting Urban Youth in the Green Jobs Sector: March 4, 2021
While there are Green Jobs in cities, many positions are in rural areas. Christine Leduc, Woodlands Operations Supervisor for EACOM, talked about the career benefits of taking an opportunity in a rural area and stressed the importance of networking to get jobs. In the employer learning session, Liane Nowell, Executive Director for The Kenauk Institute, spoke about creating supportive spaces for urban youth who have moved to rural areas.
Supporting Newcomer Youth in the Green Jobs Sector: March 9, 2021
Newcomers to Canada face many challenges on the job hunt, including not knowing what credentials they might need to pursue their dream career. Sam Nsiah, a Regional Resource Analyst for the Ontario Ministry of Natural Resources and Forestry, spoke about his career pathway when he moved to Canada. He highlighted the importance of networking and volunteering because without those connections, it can be hard to know where to look for jobs and land one. Sienna Jae Taylor, Project Manager at Immploy, spoke to employers about how to use Settlement Agencies to hire talented young newcomers.
Supporting Youth Living with Disability in the Green Jobs Sector: March 11, 2021
How can you make sure your workplace is accessible and best support people living with disabilities? Paul Koziel, Tara Crandlemere, and Logan MacDonald from Nova Scotia Parks emphasized the importance of working with organizations like Ready, Willing & Able and community partners. They addressed employers and job seekers together for the final workshop, talking about what they have done to make their workplace more accessible. This included conducting accessibility audits of their parks and hiring two people living with disabilities as maintenance workers who have gained confidence and boosted team morale.
Career Connections and Networking Fair: March 16, 2021
After the four workshops, 170 people came back to attend the virtual career fair and grow their networks. There were 23 booths from employers across the country who talked about their organizations and interacted with diverse young job seekers. Attendees could also interact together in groups or one-on-one .
The "Green Jobs are for Everyone" Workshop Series and Career Connections Fair was funded in part by the Government of Canada.