New Online Resource to Help Educate High School Students About Climate Change & Forests
April 19, 2023
Climate change is one of the biggest global challenges, which is why it's so important to prepare the next generation of citizens and conservation leaders with the knowledge, skills and motivation to take an active role in working toward a more sustainable future. Canada has committed to climate action, with all provinces and territories recognizing the importance of climate change education in schools. However, a recent survey showed that "only 34% of educators feel they have the knowledge and skills needed to teach climate change and require more training, resources, and support for climate change learning."
Educating the Next Generation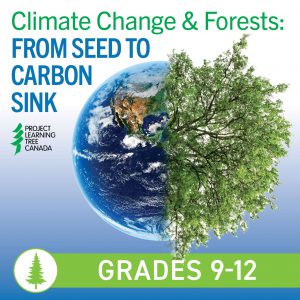 Project Learning Tree Canada (PLT Canada) has developed a new online educational resource, Climate Change and Forests: From Seed to Carbon Sink, to teach the next generation about how sustainably managed forests are among one of the most important tools for addressing climate change. This knowledge will help empower youth to take action, reduce climate anxiety, and prepare them for a changing world.
The Climate Change and Forests: From Seed to Carbon Sink e-unit is a digital interactive guide that includes eight activities for educators working with students in grades 9-12. The e-unit is designed to empower educators to engage learners in inquiry and place-based learning that will help them discover:
What is climate change?
How do forests contribute to climate change mitigation and adaptation, including in urban areas?
How does climate change affect forests and populations, globally and in Canada?
What are possible individual, collective, and systemic strategies for reducing our carbon footprints?
How does sustainable and climate-smart forestry support climate action?
How can green jobs help address climate change?
Designed with Flexibility in Mind
Educators can use individual activities as stand-alone investigations or move through the unit's activities from beginning to end. In addition, you may incorporate it into other units of study related to a broad range of subject areas.
What's Included
The e-unit includes digital access to all the information needed to teach the lessons, including educator background information (containing curated videos and infographics), preparation instructions, connection to curriculum standards, material and time requirements, step-by-step instructions for leading the activity, copyright-free teacher and student pages, assessment suggestions (including Kahoot quizzes, pre-assessments, and assessment rubrics), enrichment ideas, and links to additional resources. To purchase this e-unit to use with your learners, visit the PLT Canada shop.
Additional Resources for Educators
Inspire students to take action now and in their future by helping them expand their knowledge of the forest and explore green careers, one of the fastest growing job categories. Check out these additional resources from PLT Canada to engage the next generation of forest and conservation leaders: