National Indigenous Languages Day: Free Anishinaabemowen and Plains Cree resource
March 30, 2021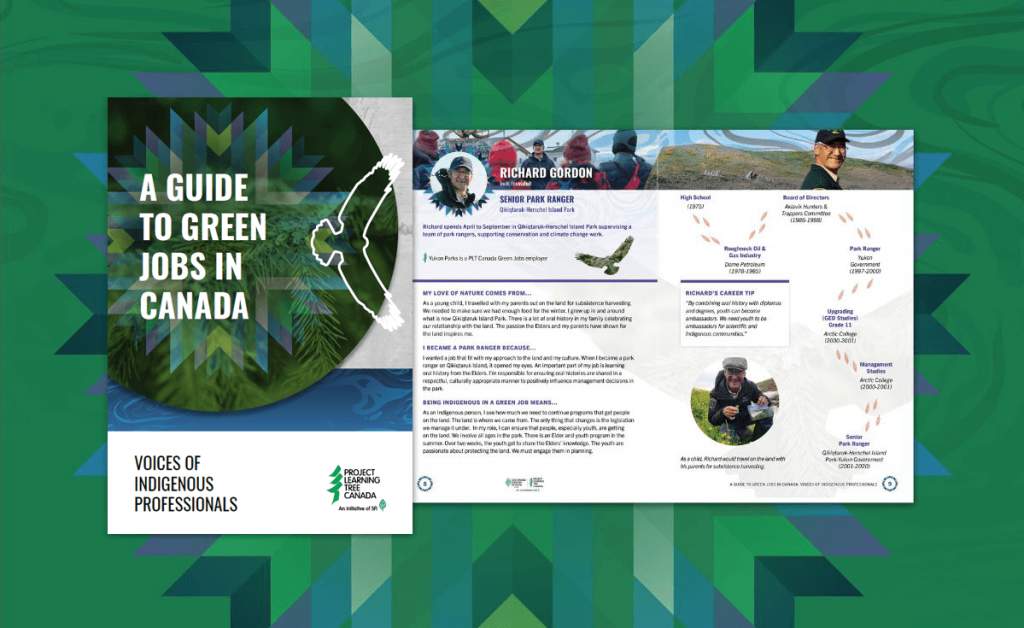 March 31, National Indigenous Languages Day, is a time to celebrate and recognize enduring Indigenous languages.
Project Learning Tree Canada's (PLT Canada) A Guide to Green Jobs in Canada: Voices of Indigenous Professionals has been translated into Anishinaabemowen, and the Plains Cree translation is coming out soon.
"It's important to offer resources in diverse languages, including Indigenous languages. The more that young people see themselves reflected and represented, the more we can engage with and inspire them to pursue green career pathways that are right for them."

– Paul Robitaille, Senior Director of Indigenous and Youth Relations, PLT Canada
The free resource features first-person stories from 12 Indigenous leaders working in the forest, conservation and parks sectors, as well as 12 green career fact sheets.
"Indigenous Peoples are Canada's original forest and conservation professionals. Today, they shape every facet of the sector, creating even more opportunity for their communities and for the next generation of young leaders in the process," said Robitaille.
Anishinaabemowen is spoken by approximately 28,000 people, and Cree is spoken by around 96,000 people. They are two of the most widely spoken Indigenous languages in what is now Canada.
Efforts to preserve, promote and revitalize Indigenous languages is part of reconciliation, and the United Nations declared that the International Decade of Indigenous Languages will begin in 2022.
In fact, it is already a best management practice in industries like forestry to put notices out in Indigenous languages as well as French and English. And there are many initiatives within communities to reconnect younger generations with their language. For example, the Aamjiwnaang First Nation used the cultural activity of making maple syrup to teach Anishinaabemowen vocabulary with a YouTube documentary, Ziidbaatogeng.
Lennard Joe, a member the Shackan Indian Band, is another Indigenous leader profiled in A Guide to Green Jobs in Canada: Voices of Indigenous Professionals.
One day, Joe, a registered professional forester, noticed that none of the logging trucks going through the community belonged to them. From that realization, his community built Stuwix Resources Joint Venture, an SFI-certified company jointly owned by eight First Nations in British Columbia. Companies that are certified to SFI are committed to responsible forestry practices, respecting Indigenous rights, protecting water quality, biodiversity, wildlife habitat, and species at risk.
"Sometimes you just need to create your own vehicle to do the things you feel need to get done," he said.
In addition to being a general manager at the SFI-certified Stuwix Resources, Joe sits on PLT Canada's and SFI's Board of Directors as a representative of the Scw'exmx Tribal Council.
"Now, First Nations individuals, companies and communities are participating in and helping care for all that the forest has to offer. First Nations are no longer just a stakeholder. Now we have opportunities to start influencing change at the larger level and creating an environment in which others can grow and succeed."

– Lennard Joe, General Manager, Stuwix Resources Joint Venture
One of the goals of A Guide to Green Jobs in Canada: Voices of Indigenous Professionals is to inspire Indigenous youth to pursue green careers. PLT Canada has placed more than 500 Indigenous youth from over 80 different Nations into high-quality green work experiences—many of whom found placements in their own communities.
Check out A Guide to Green Jobs in Canada: Voices of Indigenous Professionals for free in English, French, Anishinaabemowen, and soon Plains Cree!
View A Guide to Green Jobs in Canada: Voices of Indigenous Professionals