Meet the 4 youth we're sending to the Forests Ontario Annual Conference
February 11, 2020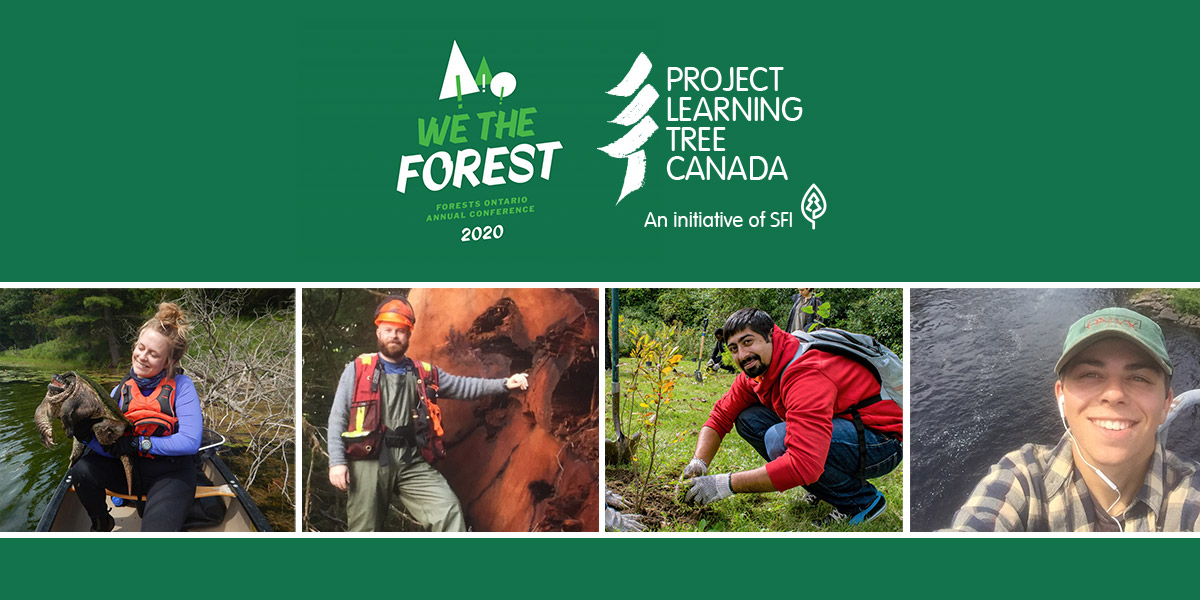 PLT Canada is supporting four youth living in Ontario to attend the Forests Ontario Annual Conference from February 13 -14 in Alliston, Ontario. These outstanding youth were selected for their demonstrated passion for forestry and desire to contribute to a more sustainable future. The youth will participate in a student day with a focus on topics like navigating life after graduation, networking 101, and job possibilities within the sector. The youth will also attend presentations from diverse forestry professionals and have the opportunity to network, meet future colleagues and employers, and gain valuable knowledge from experts in the field.
Amy Hall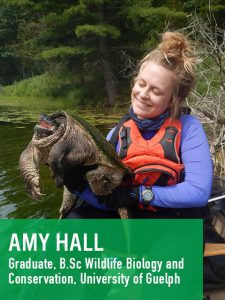 Amy is a recent graduate from the University of Guelph where she completed her Bachelor of Science degree in Wildlife Biology and Conservation. Amy worked for Ontario Parks for five years where she conducted resource management, including sampling and monitoring a wide variety of plant and animal species at risk. Amy is currently employed as a Resource Management Leader for Ontario Parks at Pinery Provincial Park. A large portion of her work and volunteer experience pertains to herptiles, with a focus on turtles. Amy researched and monitored turtles in various locations throughout Southern and Central Ontario. Amy's other passions include forest ecology, fire, and disturbance regimes. She recently completed a Low Complexity Prescribed Burn Worker course and looks forward to future opportunities to manage ecosystems with fire. She also has a wealth of experience in invasive species removal and is interested in the effects of invasive species on Ontario's forests. Amy's hobbies include hiking, canoeing, swimming, and photography.
Joseph Williams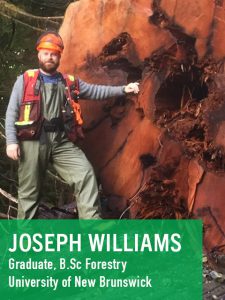 Joe was born and raised in southern Ontario and developed a passion for the forest at a very young age. From building forts, shooting bows or just going for long walks, being in the forest was a good time. With woodworking and a love of forest products as an additional passion, a job in forestry seemed the natural career path. He attended Sir Sandford Fleming College from 2014 -2016, completing the Forestry Technician Program. During that summer, he worked close to home with Dufferin County's Forestry Department. After completing his college program, Joe continued his post-secondary education at the University of New Brunswick in Fredericton. During this, time Joe spent a summer working for Tolko Industries in the woodlands division, located in High Level, Alberta. In 2019, after graduating with a Bachelor of Science with a focus on forestry, Joe worked as a forestry engineer for Western Forest Products in Port Alberni, British Columbia.
Sukrit Chopra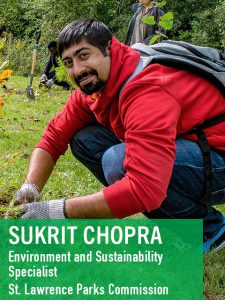 Sukrit is an Environment and Sustainability Specialist. He was born in India and lived most of his life in Africa. While working on his first degree in electrical engineering, he was always interested in renewable energy. He found it hard to understand why the world relied so heavily on fossil fuels while the sun shines every day. To seek an answer to this question, he came to Canada and pursued a Masters of Environment and Sustainability at Western University. This program allowed him to learn and interact with academics and professionals in different sectors of sustainability. Growing on this experience, he has been working with the St. Lawrence Parks Commission for the past eight months to help develop an environmental strategy. He hopes to keep learning and growing in his profession and to have a positive impact on global sustainability.
Tyler Steinberg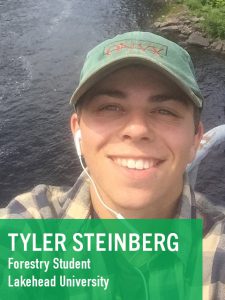 Tyler is a dedicated forestry student who is always motivated to work at the best of his capabilities. He is passionate about the environment and strives for excellence in everything he does. His also has forestry and wilderness survival experience.