Making Connections: PLT Canada/WFC Green Mentor program participants meet up in Seoul, Korea
August 05, 2022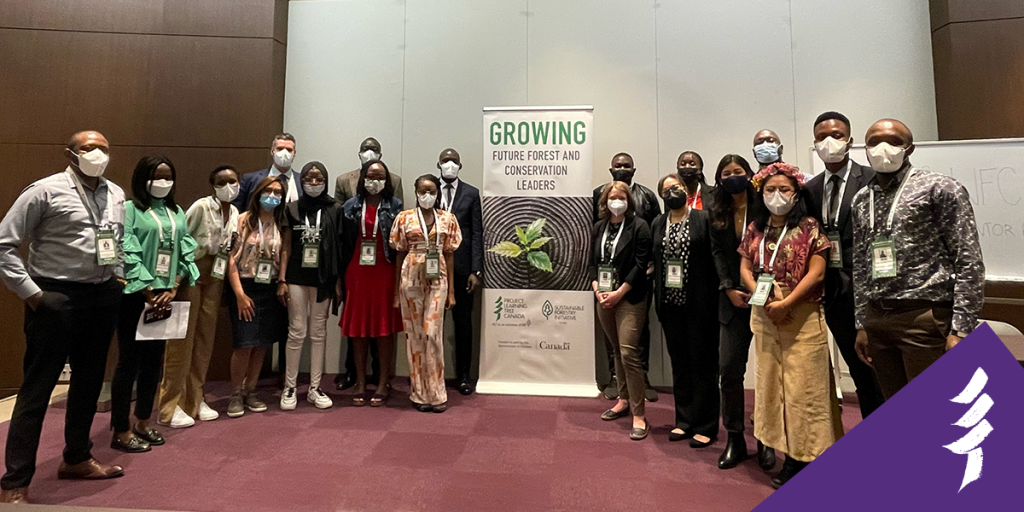 By Maria Chiarella, Manager of Mentorship and Youth Programs, PLT Canada
Being part of the XV World Forestry Congress (WFC) in Seoul, Republic of Korea from May 2–6, 2022 gave me insight into how international cooperation is addressing some of the most pressing issues in the forest sector. The congress, hosted by the Food and Agriculture Organization (FAO) and the Korea Forest Service, was filled with conversations and presentations that will propel forest research, policy, and sustainable management as solutions to global issues like climate change, desertification, and biodiversity loss.
I went to represent the Sustainable Forestry Initiative (SFI) and Project Learning Tree Canada (PLT Canada) and host the in-person meet up for the PLT Canada/WFC Green Mentor program.
Over 100 mentorship participants from around the world were part of the PLT Canada/WFC Green Mentor program, a six-month program that launched in January 2022. Over the course of the program, 51 mentorship pairs from 37 different countries connected every month, attended webinars and trainings, and worked on their professional and personal development.
On Tuesday, May 3, 2022, our mentees and mentors present at World Forestry Congress were able to meet for the first time in person to do a speed-networking activity. It gave an opportunity for mentees and mentors to get to know each other, share their mentorship experiences and tips, and build their forest and conservation sector networks.
Dr. Jesse Owino, one of the green mentors, told me, "It was a great opportunity and quite engaging as I got to meet very motivated mentees and exchanged good ideas, as well as networked well with mentors to increase our scope and interests in science."
Lili Tanui, one of the green mentees, was also happy to be present at the event. "Meeting some mentees and mentors at WFC Korea was my favorite experience in the entire congress! The speed networking enabled me to interact and know them a little bit more and I was glad to hear how all of us had improved both personally and professionally due to the mentorship," she said.
Our green mentees said that the top three personal development attitudes or behaviours the gained during the program were confidence, career planning, and creating professional networks. Our green mentors said their top three were motivation, giving honest and direct feedback, and creating new professional networks.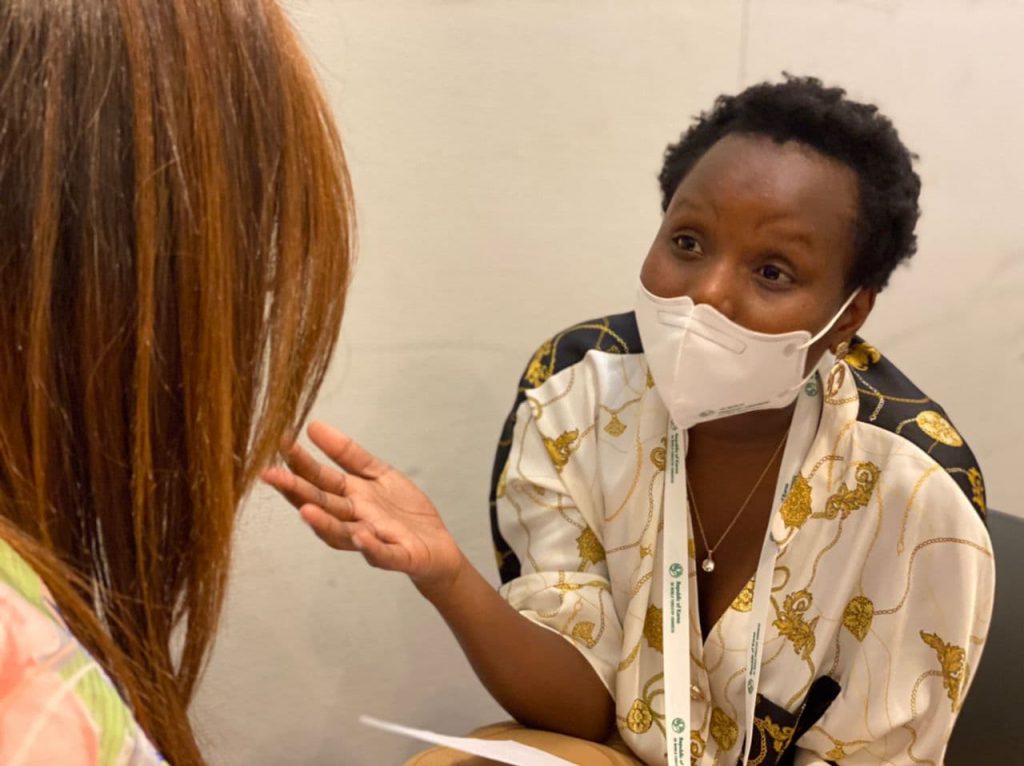 Lily Tanui, green mentee, talks with her mentor, Olfa Ezzine during the PLT Canada/WFC Green Mentor networking session.
Another highlight of the WFC was the emphasis on young professionals' development, which led to my presentation at "The future is now: Investing in young forestry professionals & career development."
This event was an opportunity to provide insights into how we are improving career development within the forest sector, and to promote new perspectives within the sector. It was fantastic to share how our Green Mentor program was positively impacting our mentees and mentors on the panel discussion. In fact, , we found that 88% of the PLT Canada/WFC Green Mentor participants felt inspired to work or continue working in the forest and related sectors because of the program. In addition, 93% of mentees reported that they landed a job or advanced in their career because of their mentor!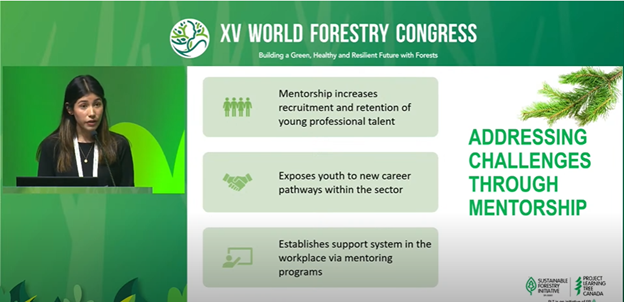 Maria Chiarella presents at "The future is now: Investing in young forestry professionals & career development."
The future of forestry is bright and enthusiastic—but its success will also come with the advice and support of those already in the sector. Youth want to be part of conversations and decisions that will make an impact on their careers and futures; and similarly, employers need young people to continue the great and vast work in the forest sector.
Overall, the WFC was an amazing experience. I was very happy to participate to so many impactful events and conversations, and our mentees and mentors were incredible. I was also able to learn a bit and enjoy Korean culture!
The success of our mentorship program continues, and 100% of PLT Canada/WFC Green Mentor participants would recommend the program. So, we're excited to launch our fourth Canadian cohort in October 2022, and we're currently accepting applications for mentees and mentors.
PLT Canada's Green Mentor program connects young people ages 18-30 with Green Jobs professionals. The mentorship program involves meeting (in person or virtually) two or three hours a month. Mentees can expand their Green Jobs knowledge, goals, and network. Mentors can inspire the next generation of leaders, recruit employees, and gain new perspectives.
An adapted version of this article also appears in #WorldForestryVoices.