Wildlife Experiences Up Close and Personal
May 27, 2020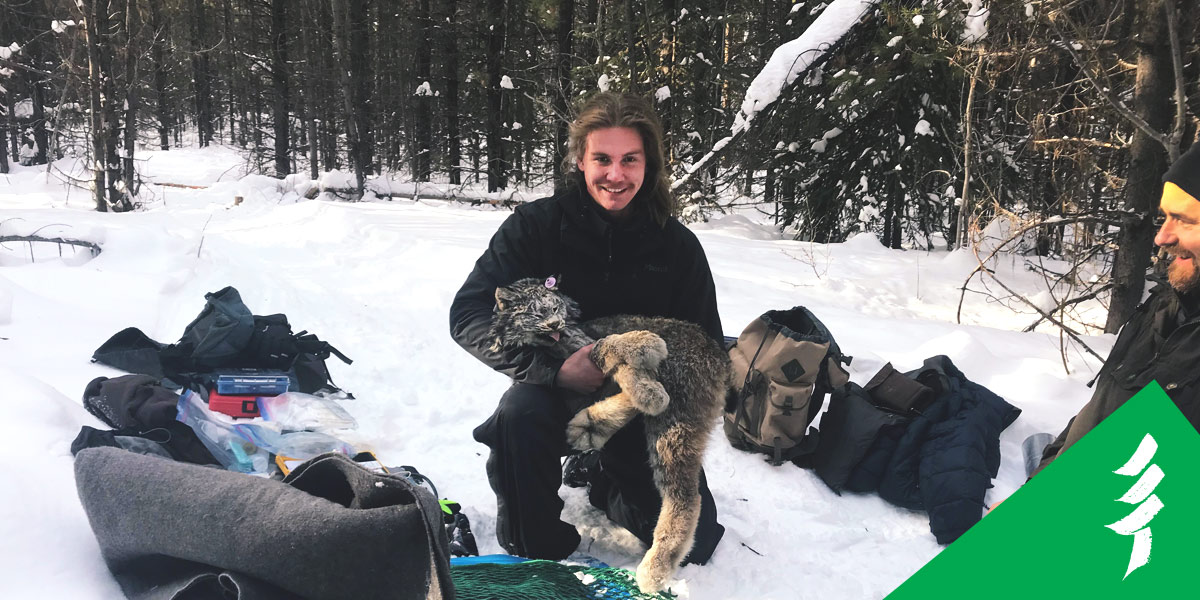 Morgan Conrad is a Wildlife Research Assistant at Chuzghun Resources Corporation in British Columbia. Part of his work includes live capture and release of animals like this lynx.
By Morgan Conrad
The feeling of holding a live lynx in my arms will stay with me forever. I'm still blown away by the experience and the fact that it happened as part of my job makes it even more special.
While working with a veterinarian to examine and tag a lynx was definitely a highlight, it was part of a series of experiences that I'll never forget. A bull moose running beside my snowmobile and an owl dropping its prey in front of me were the kinds of job experiences I had only dreamed of.
I started in January and worked until early April. I lost almost two weeks of work because of COVID‑19. After a break at the end of the winter field season, I was hired back on for the summer. I feel even more fortunate to have such an amazing job while so many of my peers are struggling to find work because of COVID-19.
John Prince Research Forest
My "office" is the John Prince Research Forest. It's about a two-hour drive northwest of Prince George in north-central B.C. It's within the traditional territory of Tl'azt'en and Nak'azdli First Nations and it's also a working forest that produces a sustainable harvest. Chuzghun Resources Corporation, a nonprofit owned equally by Tl'azt'en First Nation and the University of Northern British Columbia, runs the operation.
My understanding is that it is one of the largest research forests on the continent. It covers more than 16,000 hectares, which makes it about 40 times the size of Stanley Park in Vancouver.
Contributing research to inform sustainable forest management
I spend my days working with veterinarians and biologists. I also work alone checking wildlife cameras and taking samples from hair snags. This work directly relates to my Bachelor of Science degree in in natural resource management with a specialization in wildlife and fisheries. I graduated from UNBC in May 2019. The title of my thesis, which I am working on getting published, is "A Morphometric Study Looking at Trap Strike Efficiency on American Marten (Martes americana) Trapped in North-Central British Columbia."
After a decade of community-based social research, where UNBC and Tl'azt'en worked together, Tl'azt'en Nation voiced a deep concern around the sustainability of local wildlife, and that is where the array of wildlife projects that I and the team work on come from.
Our work also helps inform Tl'azt'en Nation's land management planning and advocacy efforts. For example, we can use marten population data from the cameras to help figure out if leaving coarse woody debris after harvesting helps sustain marten habitat.
Take advantage of resources to put you on your career path
Landing my dream job didn't happen by accident. I'm outgoing but not super talkative, so I had to stick my neck out a bit and approach professors and guest lecturers at UNBC. I managed to go on a caribou viewing trip after meeting a caribou biologist, and I'm still networking through my thesis advisor.
Times are definitely tough because of COVID‑19, but my message would be not to give up hope. Use this time to think about where you want your career path to take you and reach out to people who can help you get there. I would definitely recommend checking out the PLT Canada Mentorship Program for Youth in Forestry and Conservation and PLT Canada's Green Jobs E-Summits.
PLT Canada's Green Jobs program is supported in large part by our employer networks at the Canadian Parks Council and the Sustainable Forestry Initiative. PLT Canada is an initiative of SFI.