Student and young professional scholarships – 2023 SFI/PEFC Conference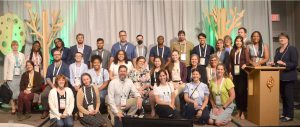 Scholarships to the 2023 SFI/PEFC Conference from May 16–18 in Vancouver, BC
Application deadline: March 6, 2023
The Sustainable Forestry Initiative (SFI) and Project Learning Tree Canada are offering scholarships to selected American and Canadian young professionals and students studying environmental science, natural resources, sustainability, or related fields, to attend the 2023 SFI Annual Conference in collaboration with the Programme for the Endorsement of Forest Certification (PEFC) Week.
The scholarships will cover registration costs, travel, accommodation, and meals during the conference in Vancouver, British Columbia. Please note, hotel rooms will not be provided for youth who live in Vancouver, BC.


At the 2023 SFI Annual Conference in collaboration with PEFC week, you will hear from some of the foremost thought leaders in the forest sector. You will also participate in a wide range of sessions, network with peers, engage with conference-guides, and make new contacts. Check out the agenda for more information.
Sessions will cover many topics, including how organizations are using data, science, and impactful collaborations to advance forest-positive and nature-positive solutions, Indigenous rights and relationship building best practices, and opportunities to advance workforce development through forest-focused collaborations.
Read about a past mentee's experience at the 2022 SFI/PLT Annual Conference.
Eligibility
To participate in this opportunity, applicants must meet the following requirements:
Be between 18–30 years old.
Be a Canadian or American Citizen, Permanent Resident, or have Refugee Status in Canada or United States.
Have a valid passport/all necessary documentation to travel. SFI will not provide visas.
Be available to attend the entire conference from May 16-18 in Vancouver, BC.
Must attend pre-departure conference training.
Must write a summary blog about experience, share photos, or provide a video testimonial.
Application
Deadline: March 6, 2023
Please fill out the following application questions. If selected, a member from PLT Canada will reach out to you through phone for a short screening call.