It's not just a zoo in there
March 08, 2019
Location: Winnipeg, MB
Employer: Assiniboine Park Zoo
Featured: Katie Florko and Jade Tanner
You would never imagine that just minutes from downtown Winnipeg lays the Assiniboine Park Zoo, stretching over 80 acres, and displaying almost 200 species year-round.
This zoo isn't just a popular tourist attraction, however. It's managed by the decade-old Assiniboine Park Conservancy that leads research and conservation efforts. Last summer, they hired two Project Learning Tree Canada students.
"There's so many unanswered questions," said polar bear research associate Katie Florko. "I think that curiosity is what drove me to be interested in research."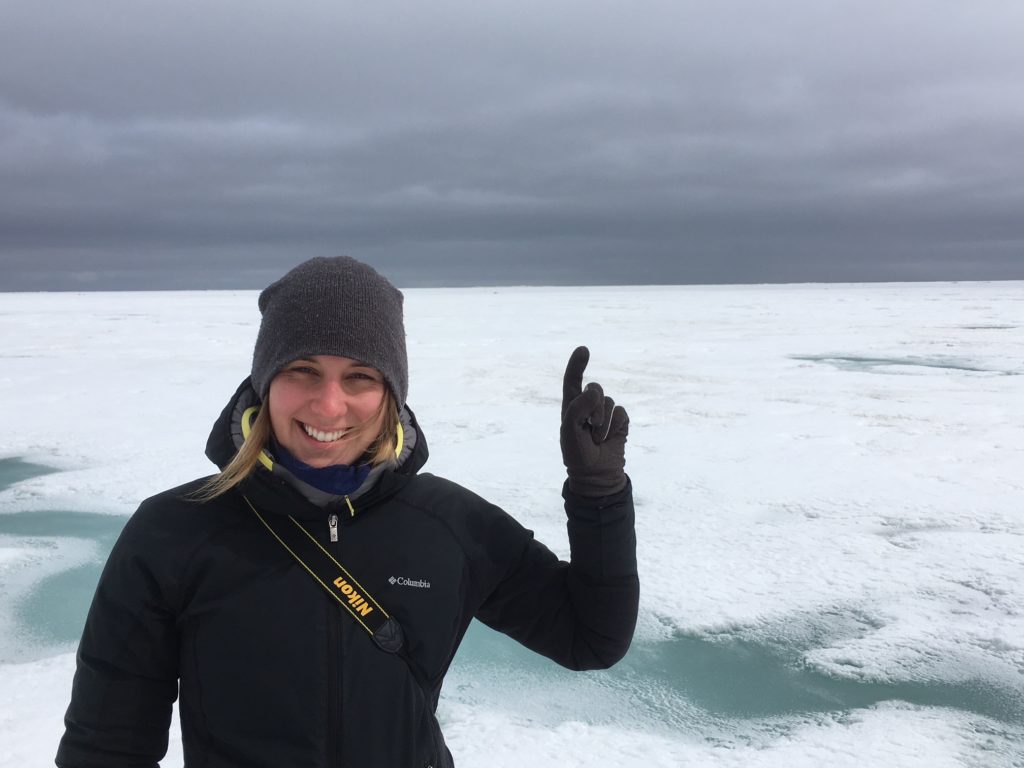 Florko completed her undergraduate degree in biology in her hometown, at the University of Winnipeg, and received her Master's at York University, where she focused on how sea ice affected polar bear diet and body condition. Florko is currently at the University of British Columbia, pursuing her PhD, also on polar bears.
At the Assiniboine Park Conservancy, she used software to map historical data on polar bear den locations to locate density and hotspots across the Canadian Artic.
Learning more about coding and data analysis statistical theories, while challenging, was ultimately very rewarding.
"The first couple weeks I was in my position, it was a lot of reading, downloading data, compiling data, uploading it to the software," she said. "And then it was focused more on actually doing the mapping work of it. The last part was writing it and figuring out what does it all mean, and how can this have conservation applications, and how can this be a tool for management."
Jade Tanner, the conservation and research summer student, assisted with another one of the Assiniboine Park Conservancy's conservation projects: the Poweshiek skipperling.
The endangered butterfly is small, brown, and not as flashy as the polar bears Florko studies. Tanner said some people were in disbelief that catching and raising butterflies was her job.
"We [get] them out in the wild, collect eggs from them, and then we raise their eggs and larvae in the zoo here to give them a head start on life," said Tanner. "We release them the following summer out into the environment, hoping that we will save them from becoming extinct."
Her field days were short, typically starting at 8 am, because butterflies are only out during the hottest, sunniest time. On one of two sites, the researchers would perform transect surveys to measure the skipperling's abundance in the area. They walked in a straight line for 100 metres, documenting when they saw butterflies and the flowers they nectar from.
Sometimes they would capture female skipperlings to bring back to the zoo, releasing them a few days later.
Tanner would also document bird-window collisions on zoo property and help grad students with various tasks.
One of her favourite aspects of work, however, was the polar bear behavioural studies.
She would record the bears' behaviour to try and personality-type them and determine what polar bears may get along better with each other.
"It's kind of like a groundbreaking thing that they've been trying to do. We have so many polar bears at the zoo that you can really gauge how they interact with each other," said Tanner. "They're also looking at if there's hotspots that they're using a lot in their enclosure and trying to replicate the areas that they seem to enjoy in other newer enclosures."
She is currently finishing her undergraduate degree in Environmental Studies at the University of Manitoba.
"I started university a little late to the game," said the 28-year-old. "I was working retail and decided I didn't want to do that for the rest of my life, so I went online and started looking at jobs that were more outdoors focused because that's where most of my personal interests [were]."
Tanner wants to pursue a career in plant conservation or whole ecosystem restoration, perhaps as a restoration biologist. She hopes to find a job with just her undergrad, but she isn't ruling out a post-graduate degree.
Florko, for her part, went straight from her undergrad to her Master's and now to her PhD after a summer "off" at Assiniboine.
"I'm quite happy to have had a breather and worked for a summer," laughed Florko. "I know that if I would have jumped right into a PhD program, I wouldn't have had the opportunity to gain the skills in this position …It's nice to be able to say you did everything back to back; it's also really nice to take time and gain skills and have more clarity in the direction you want your research to go."
Florko cites the necessity of hands-on experience to give students a deeper understanding of the animals they're studying, and importantly, why they are pursuing this work.
After her PhD, she's not sure if she'd like to end up in nonprofit, academia, government, or industry. She does know she wants to continue in research, and she has four to six years to figure it out anyway.
"I'm interested in questions about predator-prey relationships and how environments affect those relationships," she said. "I'm not totally sure to what capacity my 'dream job' would look like, I think just some kind of looking at predator ecology and hopefully being able to have some kind of impact on conservation."
Visit the Assiniboine Park and Zoo in person or online to learn more about the conservation and research people like Florko and Tanner got the chance to work in.