A passion for environmental education drives this busy mentee-mentor relationship
April 13, 2022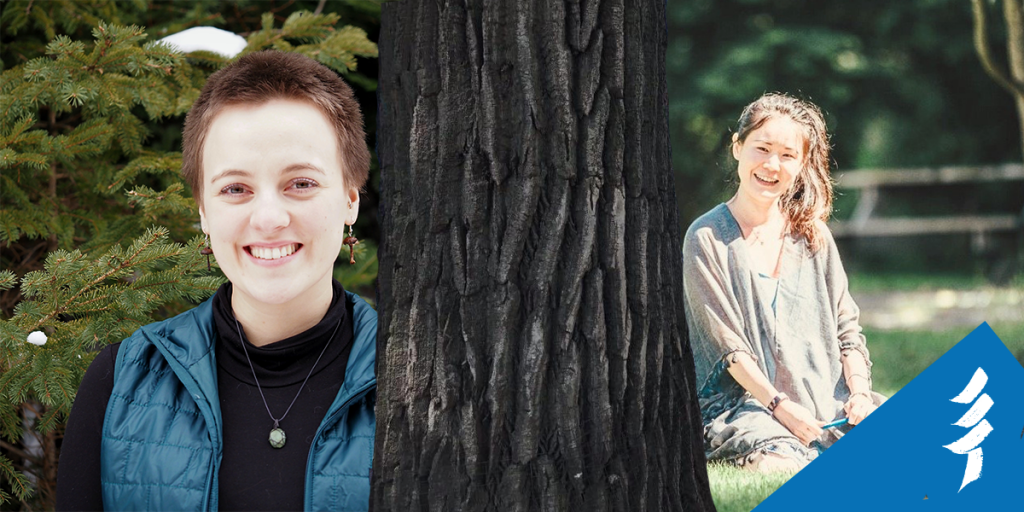 Green mentor Jasmine Chou and mentee Kaitlyn Adam are busily pursuing their passion for environmental education. So busy in fact that fitting in time to build a mentoring relationship might have seemed like a stretch.
"Before this, I was a mentee to Kathy Abusow [President and CEO of the Sustainable Forestry Initiative and PLT Canada]. She is an extremely busy person with a million things to do. But when you realize even someone like her is still managing to make time for people, it gave me a different perspective," Chou said.
As an Early Childhood Educator, Chou started her own outdoor programs in 2021. She focuses on nature and environmental education in Vancouver's Chinese community, bridging Canadian culture with immigrant families through connecting community resources and introducing forest school philosophy. She regularly blogs about her teaching experiences as another way to educate families (instagram: jasminexnature).
Adam is a fourth-year environmental studies student at Trent University in Peterborough, Ontario. She is interested in social issues and how they relate to the environment and how people act and make choices relating to the environment. Adam works as an academic assistant, and she jumps at the chance to add education-related projects to her studies.
"I also volunteer at an outdoor education centre in Peterborough, and I think the main reason that we were paired is because we both said that we were interested in environmental education," Adam said.
The PLT Canada Green Mentor program is powered by an industry-leading algorithm that matches people based on their personalities, goals, interests, and more. This helps ensure that mentor-mentee pairs build successful, productive, and trusting relationships. Together, pairs work on goals to challenge and help each other grow. And PLT Canada helps nurture the mentorship relationships with communication tips, networking advice, and problem-solving tools.
The Sustainable Forestry Initiative (SFI) Conference Green Mentor Program is currently recruiting mentors! Anyone attending the 2022 SFI/Project Learning Tree Annual Conference in Madison, Wisconsin from June 14–16 with over three years of professional experience can apply. Mentors make a four-month commitment and ensure they can meet their mentee 2–3 hours per month (virtually) and at the annual conference.
Since November 2021, Chou and Adam have been meeting over video calls once a month for an hour and then staying in touch with messaging.
"I'm the kind of person that likes to say yes to everything. I don't want to turn down good experiences. The school of the environment at Trent emailed about the PLT Canada mentorship program. I thought 'Okay, I'll say yes to this.' And it's been so great to meet Jasmine," Adam said.
Adam credits Chou with pushing her out of her comfort zone. Despite their busy lives, both mentee and mentor describe themselves as introverts who see things the same way when they face challenges.
"Kaitlyn inspired me to be a leader, to look around my community, learn and connect," Chou said. "I started volunteering for an elementary school gardening program. This gave me an opportunity to go into the school system and build my network."
Kaitlyn admits to hesitating to reach out to professors, but Jasmine has encouraged her, with good results. "My professors are really receptive and now I'm more confident, which is a transferrable skill I'll use for the rest of my life."
When it comes to thinking about the future, they both look forward to one day meeting in person, which could happen sooner rather than later if Adam ends up pursuing her studies in BC.
"Jasmine has this gratitude thing she likes to do. She calls it the 'kindness project.' I think it's beautiful and I've been trying to show gratitude to the people around me. I definitely have her to thank for that," Adam said.
PLT Canada's Green Mentor program connects young people ages 18-30 with Green Jobs professionals. The mentorship program involves meeting (in person or virtually) two or three hours a month. Mentees can expand their Green Jobs knowledge, goals, and network. Mentors can inspire the next generation of leaders, recruit employees, and gain new perspectives.